Proud to share this Media Release connected to a year-long project curating this important project!
Further details can be found at https://nature.ca/en/plan-your-visit/what-see-do/our-exhibitions/courage-passion-canadian-women-natural-sciences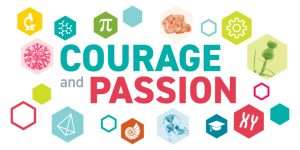 Courage and Passion: Canadian women trailblazers in the natural sciences
OTTAWA, July 26, 2018 – Meet inspirational women who have broken barriers to pursue their passion for science in a new exhibition developed by the Canadian Museum of Nature. Courage and Passion: Canadian Women in Natural Sciences reveals the contributions of innovative trailblazers in science from the 17th century right up to present times. It also addresses the social and gender barriers these women faced, with contemporary insights to inspire girls and young women with an interest in science.
 The exhibition opens July 28, 2018 and runs for seven months until March 31, 2019. The launch marks 100 years since women won the right to vote in federal elections, a milestone passed in the museum when it served as the temporary home for Parliament following the fire that destroyed the Centre Block in 1916.
"We are proud to present this exhibition about Canadian women who have advanced our understanding of the natural world, paving the way for female scientists today, including those at our museum," says Meg Beckel, President and CEO of the Canadian Museum of Nature. "Many of these unsung heroines did their work away from the spotlight, but their stories should be known by all Canadians, especially young people with a passion for science."
Visitors to Courage and Passion are guided through a historical timeline, where they meet 20 key women scientists and learn about their accomplishments. Artefacts, archival documents, specimens and videos help share their stories.
A second section presents current opportunities in science—whether in the lab, in the field, in the classroom or in the boardroom—while challenging some of the gender stereotypes girls still face today. Throughout the exhibition, three young guides—a grade-schooler, a teen and a university student—share their take on women in science.
"This exhibition allows us to examine the gendering of science and how socially defined roles affected the lives and careers of women scientists," explains the exhibition curator and science historian Dr. Cindy Stelmackowich, who teaches in Carleton University's Women's and Gender Studies program. "These women contributed to the collection, identification, illustration, production, and distribution of scientific knowledge within the natural sciences in Canada. Their determination shaped how Canadians make sense of their natural world, and they are clearly deserving of wider recognition."
 Exhibition overview
The exhibition highlights trailblazers in numerous science disciplines, such as botany, zoology, geology, agriculture, physics, paleontology and even early medicine. Nuns from the 17th-century who worked at the Hôtel-Dieu de Montréal prepared herbal medicines, some of which were gleaned from the traditional knowledge of First Nations peoples.
Visitors will also learn about the evolution of social norms and the barriers that prevented women from achieving their goals. During the Victorian era, for example, it was generally not socially acceptable for women to work outside the home. It did, however, become fashionable for upper-class women to engage in scientific "hobbies", such as collecting and identifying natural objects.
Botany, in particular, was viewed as a "suitably feminine" subject. Pioneer Catharine Parr Traill was one of the first settlers to publish in detail about Canada's climate, plants and animals. Her plant collections are housed at the Canadian Museum of Nature's National Herbarium in Gatineau, Quebec.
Also, up until the mid 20th-century, marriage could abruptly end a woman's career in certain professions. A case in point is the story of Harriet Brooks. She was Canada's first female nuclear physicist, being one of the first to discover radon, and worked with Nobel laureate Marie Curie. But her decision to get married forced her into retirement from her career at age 31.
Despite expanded opportunities for women during the war years, their careers in science were still limited. Women scientists were often assigned clerical duties and excluded from fieldwork, as was the case with Alice Wilson, the first female geologist with the Geological Survey of Canada. Some such as Marcelle Gauvreau took their skills outside the lab. She started the Montreal School of Awakening, which was dedicated to introducing science to children.
Rounding out the timeline are profiles of modern-day career scientists, including Victoria Kaspi, an astrophysicist who is the first woman to receive the prestigious Herzberg medal; Joyce Boye, a food scientist with a focus on food security in developing countries; Gwen Bridge, a forest hydrologist and member of the Saddle Lake Cree Nation; and Kathy Conlan, a marine biologist at the Canadian Museum of Nature who has studied marine biodiversity while diving under the Arctic and Antarctic ice.
The contributions of the 20 scientists are brought to life with their tools, field notes, and examples of their discoveries. Among the items on display are microscopes, electroscopes, a spore counter, a grain sterilizer, fossils, marine creatures, minerals and typical office equipment of the day.
The star specimen in the show is a 16-foot-tall giraffe skeleton from the museum's collections. It accompanies a display about zoologist Anne Innis Dagg who travelled solo to South Africa in 1956 to study giraffes in the wild. She was the first Western scientist to do so and she had to hide her female identity to secure accommodations by shortening her signature to A. Innis.
In addition to objects from its own collections, the museum is displaying items on loan from other institutions including Carleton University, the Canada Science and Technology Museum, Agriculture and Agri-Food Canada, the Geological Survey of Canada and the Musée des Hospitalières de l'Hôtel Dieu de Montréal.
Support for the exhibition is provided by Lundin Mining and Sherritt International.
The Canadian Museum of Nature is located at 240 McLeod Street, Ottawa. Access to Courage and Passion: Canadian Women in the Natural Sciences is included with regular museum admission. Visit nature.ca for hours and fee. Follow the museum on Twitter (@museumofnature), Instagram (museumofnature, and Facebook.com/canadianmuseumofnature. #CourageAndPassion.
About the Canadian Museum of Nature:
The Canadian Museum of Nature is Canada's national museum of natural history and natural sciences. The museum provides evidence-based insights, inspiring experiences and meaningful engagement with nature's past, present and future. It achieves this through scientific research, a 14.6 million specimen collection, education programs, signature and travelling exhibitions, and a dynamic web site, nature.ca.
About Lundin Mining:
Lundin Mining is a Canadian base metals mining company with operations in Chile, the United States, Portugal and Sweden, primarily producing copper, nickel and zinc. With a strong focus on gender diversity and women in mining, Lundin Mining invests in local programming that empowers young women and cultivates their interest in science, technology and engineering. One example is support of the Komtek Academy in Sweden that hosts technology and entrepreneurial camps for young women.
About Sherritt:
Sherritt is a world leader in the mining and refining of nickel and cobalt from lateritic ores with projects and operations in Canada, Cuba and Madagascar. Sherritt licenses its proprietary technologies and provides metallurgical services to mining and refining operations worldwide. Sherritt supports the International Women in Resources Mentorship Programme, and signed the Catalyst Accord 2022, which commits to accelerate the advancement of women in business.
Media relations contacts:
Laura Sutin                                                                        Dan Smythe
Canadian Museum of Nature                                    Canadian Museum of Nature
cell: 613-698-7142                                                             613-566-4781; cell: 613-698-9253
lsutin@nature.ca                                                            dsmythe@mus-nature.ca